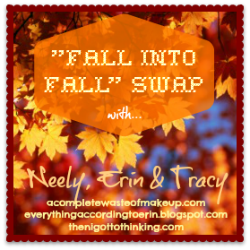 Earlier in September I joined the Fall into Fall Swap and was partnered up with Jules from
My Mom's a Whack Job
. :D Since our parcels had to cross the border, I've just received mine and missed the reveal date, but nonetheless it's here and I'm excited to share!
Note from Jules
All wrapped up!
tada!!! lots of nail polish and gorgeous shiny things (cute tweezer with a heart, compact mirror, ring and 3 nail polishes)
My fave was the ring
This was an attempted close-up
Thank you so much for the the lovely nail polish colours, especially the sparkle purple and neon aqua. Also, I LOVE the ring, it fits perfect on my right hand (since I was holding camera with my right hand so the left one had to model it instead.) It's just my thing!
This was my first swap and I had a lot of fun with it, although next time, I think I need to shop faster or just need more time~ I'm a slow thinker XD I can't wait for the Xmas/winter one!